Proudly local for unique

gifts and customised apparel
From Bay of Islands souvenirs to BadAzz printed tees
BadAzz is loved by locals but due to the originality of their cool designs, their apparel is gaining recognition from people across New Zealand and beyond.
With an ever-evolving range of fun designs matched with excellent customer service, BadAzz Paihia is the place to shop for awesome printed t-shirts, unique gifts and customised apparel.
BadAzz Customised Clothing Gifts and Design grew from Classique Souvenirs, a popular gift shop located on the main street of Paihia in the Bay of Islands. The shop has been serving locals and visitors for more than 25 years!
Over time, owner Mike Watson and inhouse artist/designer Allyson Waldron have developed and refined their product range. Gifts are still an important part of what's on offer, but the focus has shifted in recent years towards customised apparel and unique designs printed on t-shirts, tops and hoodies.
Allyson, our awesome designer, is one creative lady. She creates many of the incredible prints you'll see on our printed tees. She's also a mixed media artist creating abstract designs in oils, acrylics and resin art, and she has even decorated cakes for many years.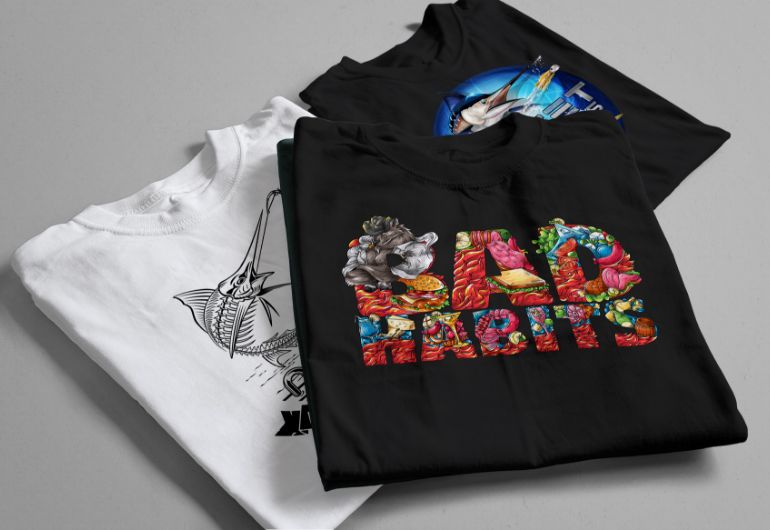 Using high quality AS Colour garments and putting our years of experience to good use, BadAzz ensures great quality clothing, personalised designs, and excellent customer service. There's no minimum order required, and we can supply our printed tees and tops in most colours and sizes.
 If you're in need of t-shirt printing, send Mike, Ally and the team a message, email or DM on social media. We look forward to hearing from you and helping you in any way we can!
Our designs or yours printed on quality apparel – wear it your way!
Let us answer your questions